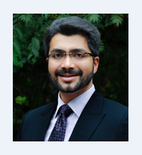 Mr.Dennis George, Vice Chairman - Group
Mr. Dennis George, Vice Chairman of the Educational Trust that runs the Shalom Hills Group of Schools, believes that Shalom Hills was structured to emphasize the importance of practical judgment in education; to impart the kind of reasoning that wisdom provides. He has always emphasized on excellence in academics and on every Shalomite benefitting from customised co-curricular and extra-curricular activities.
A management consultant with specializations in the field of International Business, Marketing & Human Resources, Mr George did his schooling from Kodaikanal International School, which was established in 1901 and which became the first IB school and International school in India when it adopted the International Baccalaureate Diploma program in 1976. He completed his graduation (B.Sc) in Business Management Studies from Bradford University (UK). He then went on to complete his post-graduation (M.Sc) in International Business from Aston University (UK). He also holds a certificate in marketing from the University of California, Berkeley (USA). Former Chairman of the Student-Faculty Committee and Student Council of his alma mater, he has keen interest in the fields of personality development, education, health, sports and community service and was awarded for excellence in this field.
His active involvement in the day-to-day affairs, and his constant monitoring of the functioning of the school ensures that every participant in the process, that includes the management, teachers, students and parents are on the same page and work impeccably to bring out the best in each and every Shalomite and help in positive progression.
Students are encouraged to identify and convert their limitations into positive possibilities, and are made to acknowledge, realize and respect the value of education that the institution (school and parents) as whole provides for. Teachers are encouraged and are given a platform to explore their limits, and to expand their boundaries of their potential, to deliver their very best to the students. Parents are urged to participate in the transparent platform of communicating with the school, to share their concerns and to offer suggestions. It is with the involvement, support and strength of over a thousand parents who form our integrated Shalom family that has aided in our positive progression. We come a long way indeed, but the journey in pursuit of perfection and prudence shall always continue...
In his own words:
"I firmly believe that education affects eternity and its purpose is neither transient nor short lived. The objective of education is to equip the young ones to educate themselves all their lives. Our school serves to provide a multi-disciplinary, collaborative, multicultural learning environment, which will be constantly enhanced through academic research and pedagogical innovation in the school. But more importantly, it is my dream to see one generation of torch bearers after the next leave the school portals and leave their stamp of versatility, equality, humanity, purposefulness and individuality in the lives and global community they touch and influence."